"A day in Sumer" - £300



One day and four sessions to immerse your pupils in the Sumerian daily life.
£300 for one day


£500 for two days (i-e 2 classes)
Included:
✓ Free consultation service for any questions about the Sumerian civilisation during the week preceding or following the "day"
✓ Free access to a picture library online about ancient Sumer
✓ Topic book for every children (timeline; map; lexicon; material for the session; exercises / questions)
✓ Any other material needed for the day (except stationery)
Not included:
Sumer related texts and documents to read or use in class before or after the "day".
Available on demand for £10 each.
"A

term in Sumer" - £400



Immerse your pupils in the Land of Sumer!

For £100 more, opt for an in-depth study of Ancient Sumer
Have it as one of your term topics!
Included:
A "day in Sumer" and the included services
+
(optional, on request)
✓  One-hour extra session on the topic of your choice
✓ A "wow" end of term: "Write your own cuneiform tablet!"
✓ Free consultation service during the term
✓ Texts to read in class on demand
✓ Documents for cross-curricular activities on demand (all based on original sources)
"I wanted my pupils (Year 4) to be immersed in Sumer for a few weeks and talked to Marie about how we could link the topic to grammar sessions, and she wrote the most amazing text to accompany the lessons"
(Amélie, French bilingual school "Les Petits Caméléons")
A day in Sumer ...                                   Sumer as a term topic
✓ Two levels of difficulty for each sessions: year 3-4 and year 5-6
✓ Each session lasts approximately 1 hour – depending on children's questions and interests
✓ Sessions are for one class at a time
✓ Sessions may be planned on one day, 2 half days or 1 hour per week.
Choose the most convenient option for your school
Numerous aspects of the Sumerian civilisations may be explored through cross-curricular activities
(All documents are based on original sources)
What do you eat in Sumer?
Sumerian stories: myths, legends, epics that feature Sumerian gods and heroes
Mapping ancient and modern Middle East
Comparing the Euphrates and the river Cam
Calculating in Sumer
... and many more ...
You choose according to your school's aims and main interests.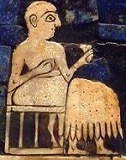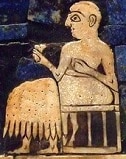 The children explore the Land of Sumer and investigate the Sumerian sources by themselves:
✓ to better understand the complex processes that lead from the birth of irrigated agriculture to the birth of cities
✓ consider the impacts of the changes on Sumerian daily life.
In all sessions
✓ Use of authentic, original sources
✓ Interactive method: children are guided through a series of questions and a step-by-step approach to interpret the ancient sources by themselves
"Marie has a real gift for bringing ancient Mesopotamia alive. Her sessions are fun, imaginative, and truly authentic"
(Selena, University of Cambridge, Department of Archaeology)
Find out more!
Get in touch with Marie for further information
marie@esagil.co.uk
0755199124
"We loved having Marie in our school and really hope that we can reiterate the experience" (Les Petits Caméléons)