Project supported by the University of Cambridge
All sessions are free for the school year 2021-2022 (if you book a session before April 2022)
Sessions in class



Short introduction by Marie followed by an interactive activity



✓ Different levels of difficulty for each sessions to match years 3-4 and years 5-6
✓ Each session lasts approximately 1 hour – depending on children's questions
✓ Sessions are for one class at a time
✓ Marie is available before and after the session to answer your questions about Sumer

✓ Texts to read in class on demand
✓ Access to a picture library on the University website to better prepare your session (from September)
Distance learning



Video and activities to do in class
✓  Videos (10-15 min) made by Marie to watch in class (introduction or explanation for activities)

✓ Pdf documents for pupils with the proposed activities

✓ Pdf documents with explanations for the teacher
✓ Marie is available before and after the session to answer your questions about Sumer and to help you prepare the activities (if needs be)
✓ Texts to read in class on demand
✓ Access to a picture library on the University website to better prepare your session (from September)
"I wanted my pupils (Year 4) to be immersed in Sumer for a few weeks and talked to Marie about how we could link the topic to grammar sessions, and she wrote the most amazing text to accompany the lessons"
(Amélie, French bilingual school "Les Petits Caméléons")
A day in Sumer ... when you take four sessions (in class or distance learning)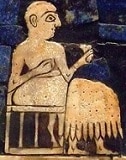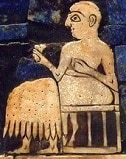 The children explore the Land of Sumer and investigate the Sumerian sources by themselves:
✓ to explore the mechanisms of an ancient language

✓ to understand the processes that lead from the birth of irrigated agriculture to the birth of cities
✓ to contrast Sumerian daily life with their own.
In all sessions
✓ Use of authentic, original sources
✓ Interactive method: children are guided through a series of questions and a step-by-step approach to interpret the ancient sources by themselves
✓ Topic book for every children (timeline; map; glossary; material for the session)
✓ Sessions may be planned on one day, 2 half days or 1 hour per week.
Choose the most convenient option for your school
"Marie has a real gift for bringing ancient Mesopotamia alive. Her sessions are fun, imaginative, and truly authentic"
(Selena, University Lecturer, Leicester)
Find out more!
Get in touch with Marie for further information
marie@esagil.co.uk
0755199124
"We loved having Marie in our school and really hope that we can reiterate the experience" (Les Petits Caméléons)