"Travelling in Ancient Sumer"
Teaching Resources, a book and sessions for primary schools (KS2 History). Booking now open for 2023-24
Esagil Games has developed its school resources and classes in partnership with the University of Cambridge
A project awarded by the Arts and Humanities Impact Fund for the school year 2021-22.
University of Cambridge (UK), Department of Archaeology,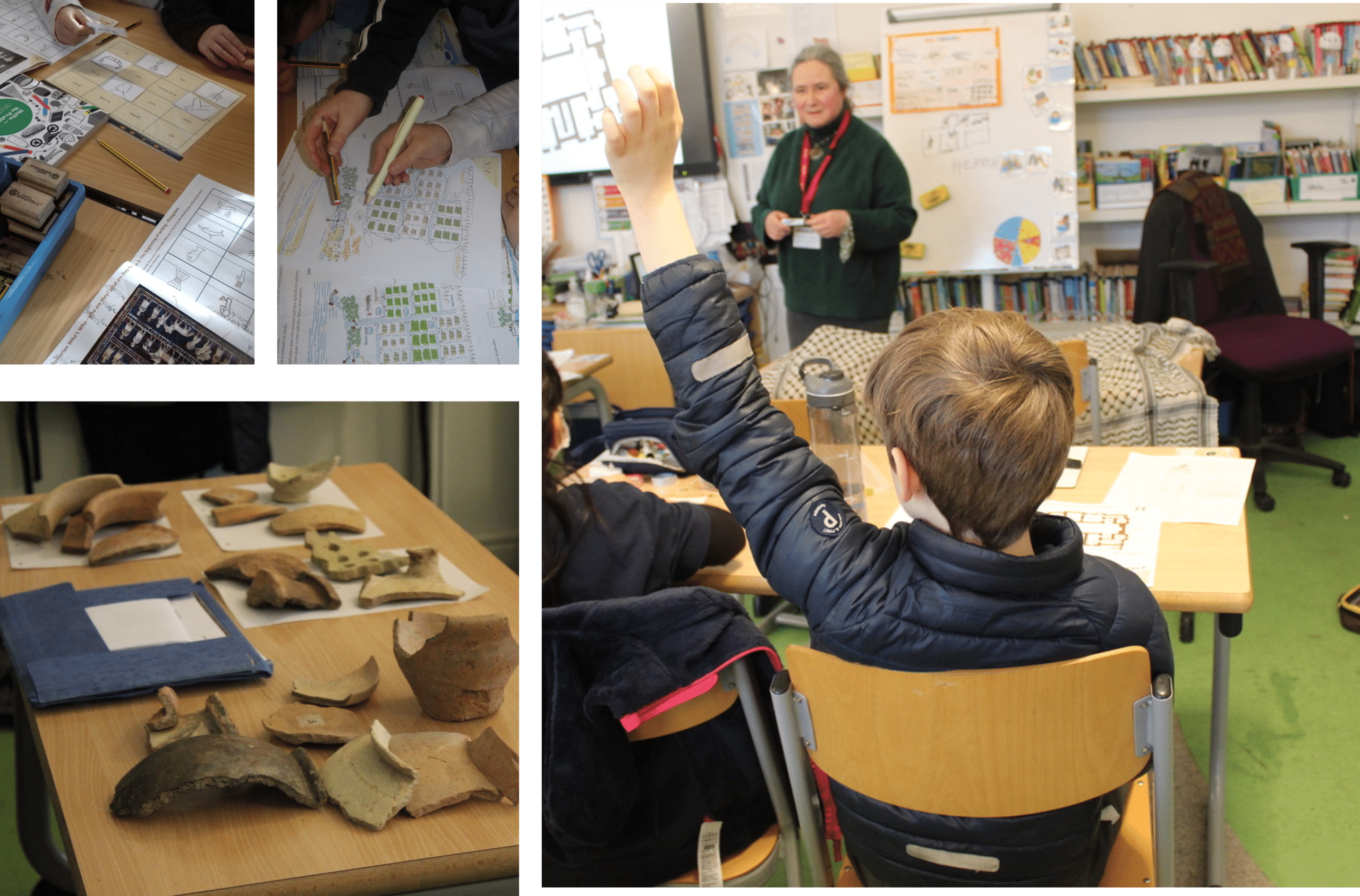 Ancient Sumer in primary schools! (KS2 History)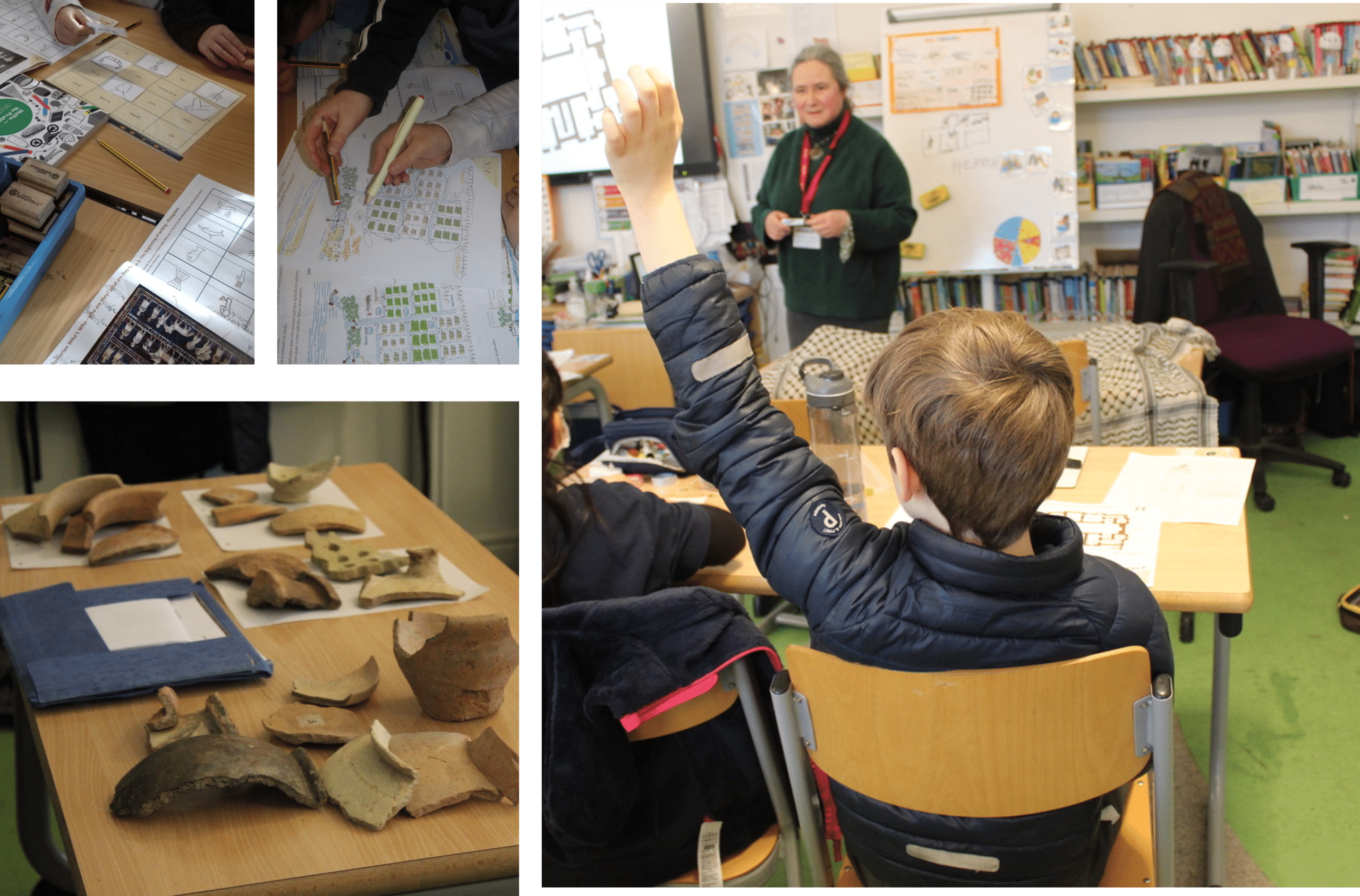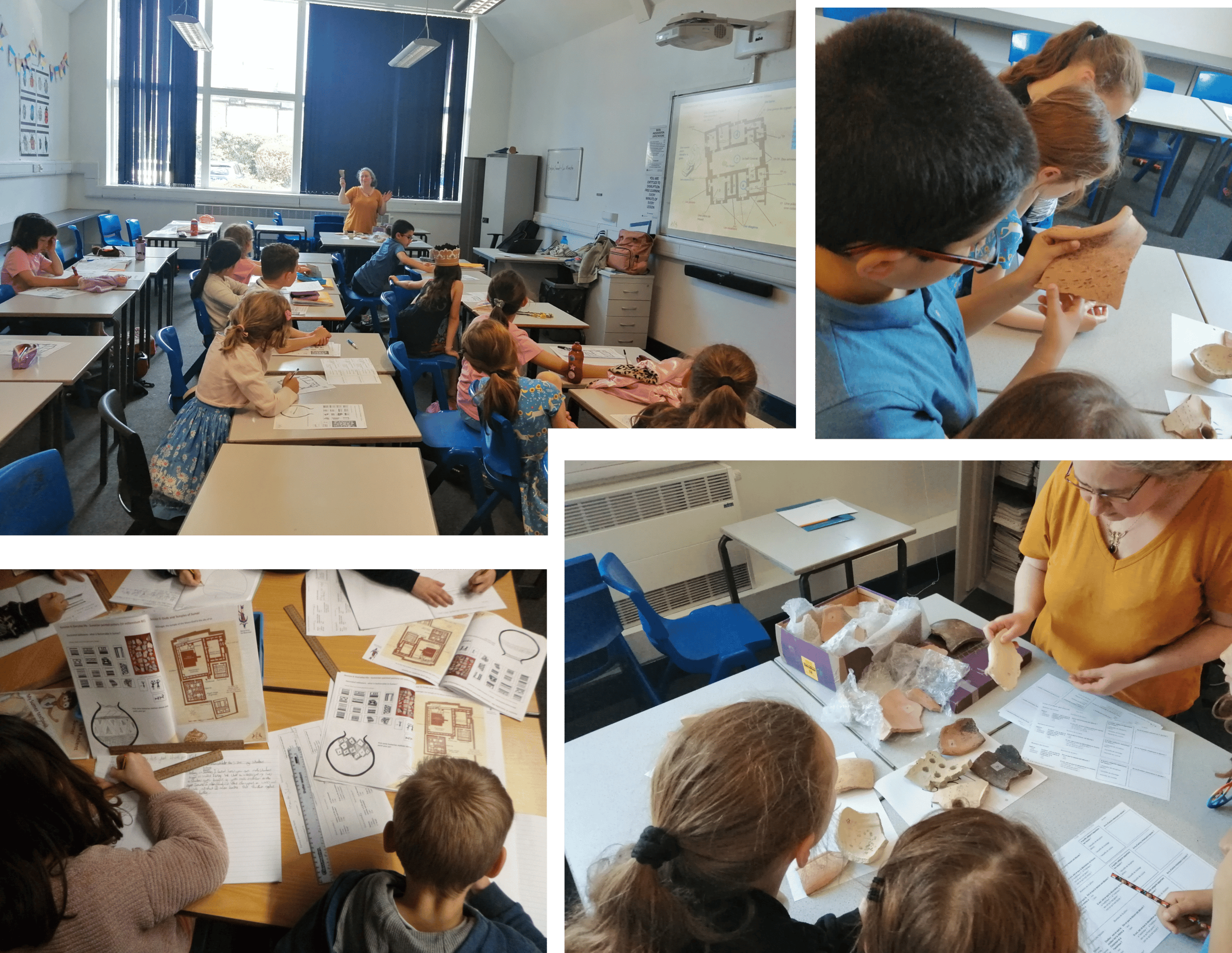 Like an archaeologist! Investigate everyday life in Sumer!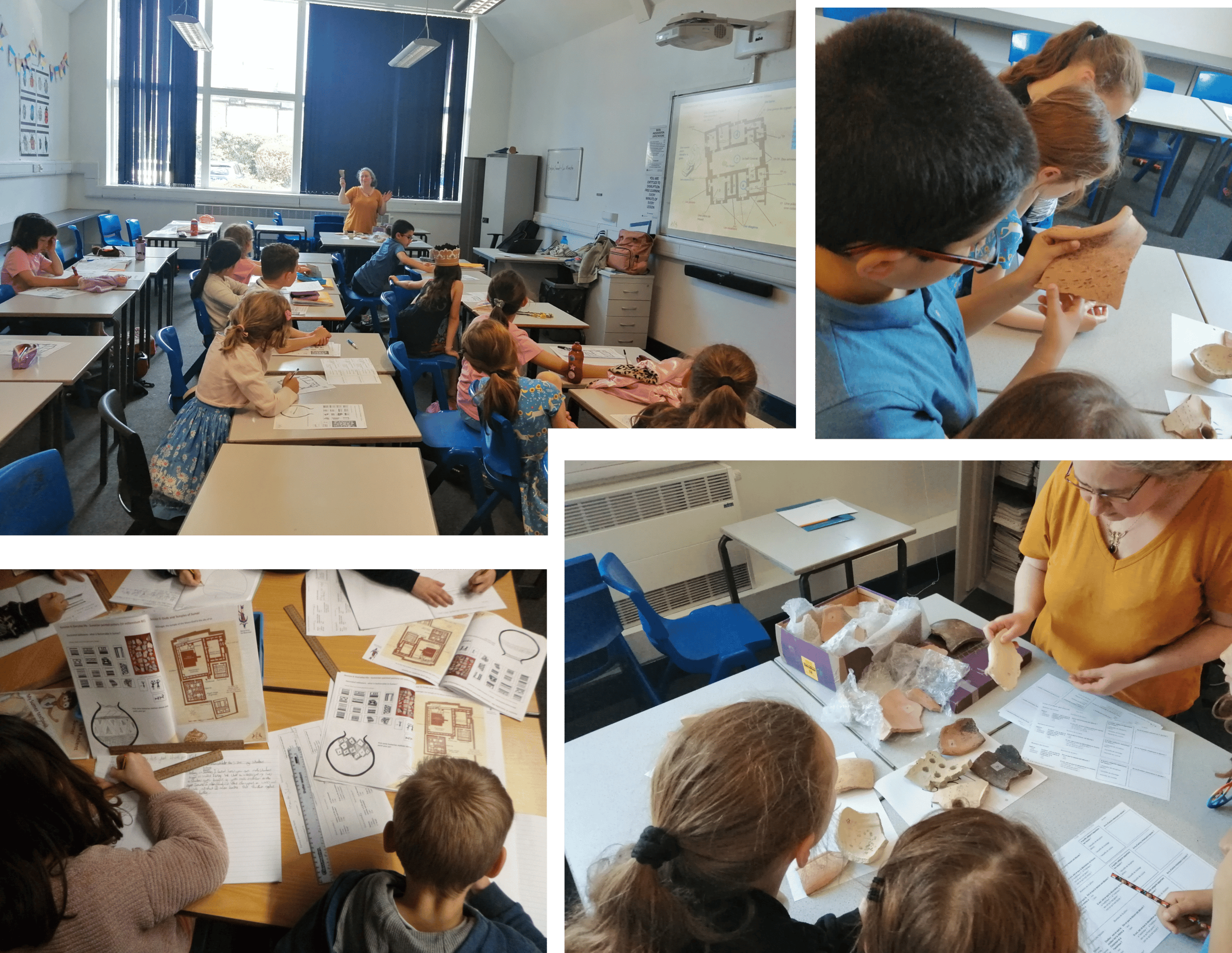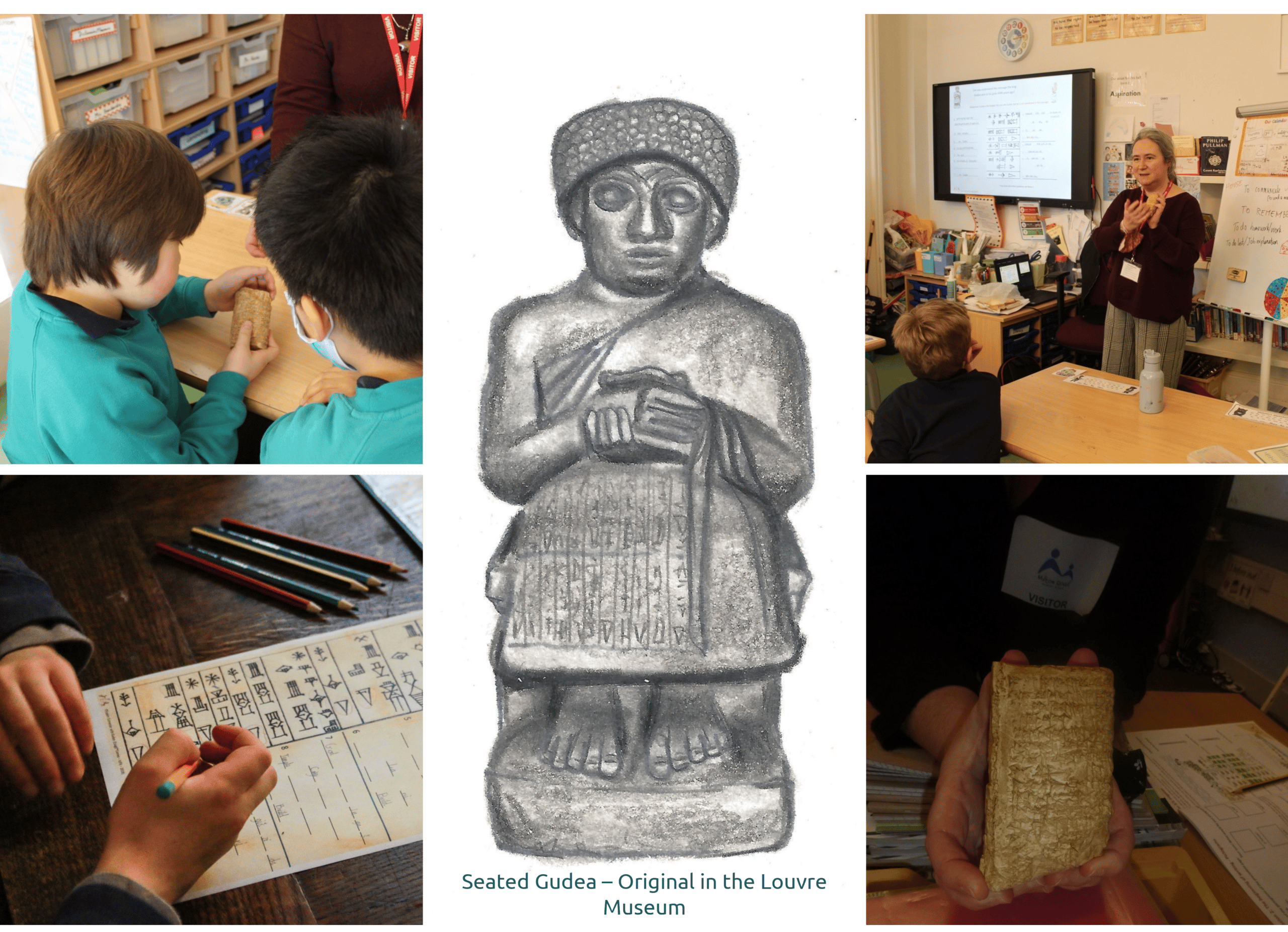 Decipher cuneiform writing!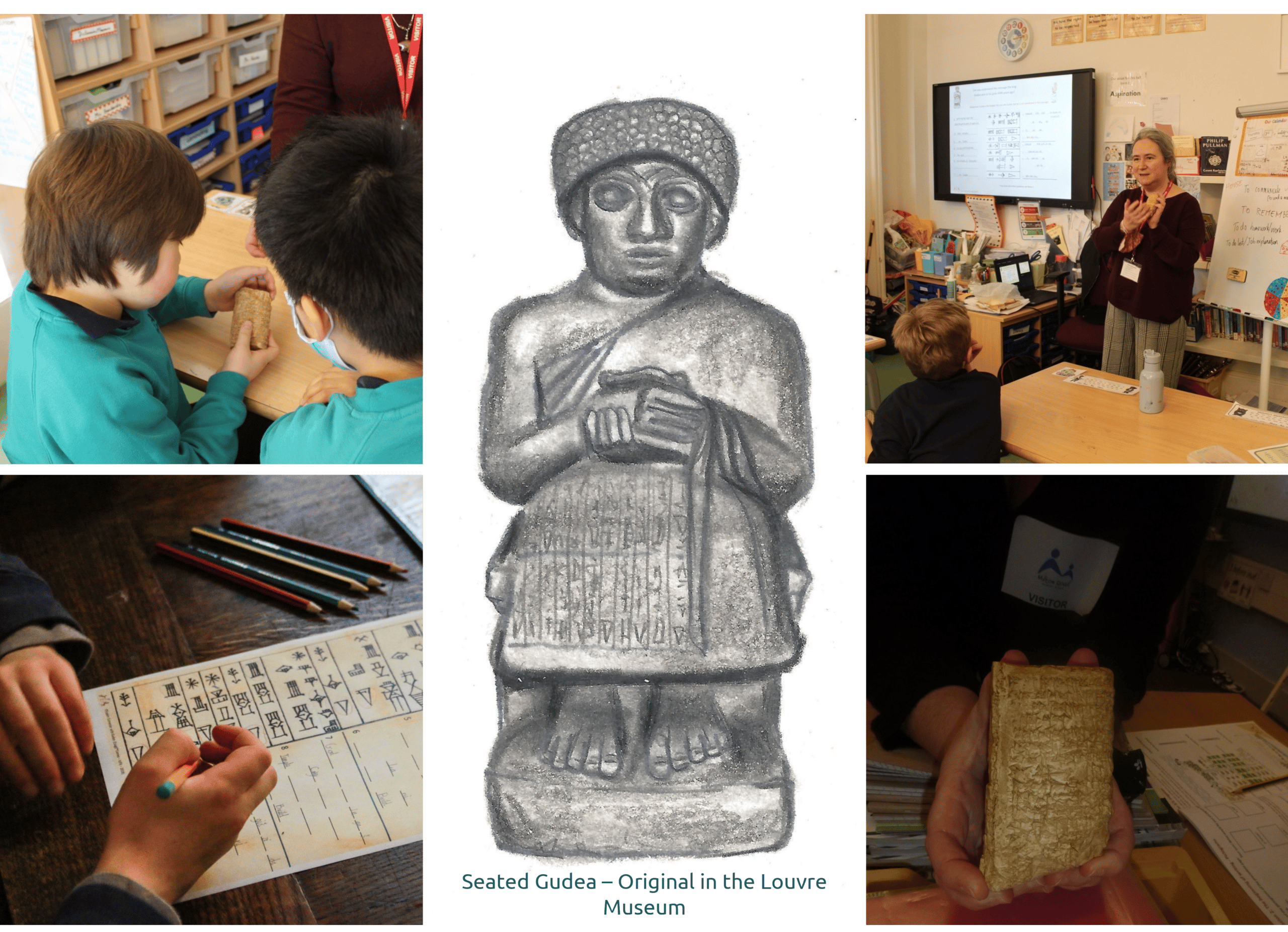 "Travelling in Ancient Sumer"

offers to your school the

teaching and support of an expert,

Marie (affiliate of the University of Cambridge McDonald Institute for Archaeological Research).
✓ To introduce your class to the

great achievements of the Sumerian civilisation

(KS2 history)
✓ To explain your pupils how we know about them and interpret ancient sources.
Marie uses

recent research and authentic sources

to create original courses and activities.
"We jumped at the chance to allow the children to learn from an expert in the field of archaeology and history, and it was such an enriching experience!"
Kate, OAKS International School junior teacher
By studying primary sources, an archaeological plan and pottery sherds from the III millennium BC, your pupils learn how to reconstruct daily life in the past.
Session for all levels; in-person classes only.
Full afternoon or morning session: £75.
Very few people in the world can read cuneiform: why not giving this opportunity to your class?
Session for Year 5-6+; Year 4 possible (to discuss); in-person or online classes.
Full afternoon or morning session (for an immersion into cuneiform writing and Sumerian): £75.
Allow your pupils to explore further and ask all questions they have in mind about Sumer and about the job of archaeologist and historian.
Sessions for all KS2 levels; in-person or online;
£50 in-person; £25 on-line
"A.. really loved this week of school. He came back buzzing with stories about the Sumerians and their culture. Particularly pottery, for some reason." (A parent - Year 3)
"Like deciphering a code!" (Etienne Year 5)
"It was difficult but I loved it!" (Thomas Year 4)
"Marie was excellent. She did a tailor-made question and answer session, taking my students questions and researching and finding evidence to show them." (Lois Teacher Year 6 - Piper's Corner)
"Travel in Sumer!", the (essential) guidebook to Sumer for children... Great for families and schools!
The book is more than a simple description of Sumerian civilisation and its achievements. While all information is based upon recent research, including sensory archaeology, to recreate the world of the Sumerian cities, touches of whimsy and "travellers' tips" ("Where to eat?" "How to behave with a Sumerian"?) contribute to make it feel real for the children.
"Lots of interesting information! I felt like I'd seen the sights and met the characters!" (Emily Year 5)
✓ Discover a (very) unfamiliar culture in an entertaining way to finally get use to the Sumerian way of life and feel at home in Sumer!
✓ Find out various interpretations on some facts in a fun way (Sumerians – scholars behind them - sometimes disagree!): reconstruction of the past is not always straightforward.
✓ Learn about Sumerian literature, quoted here and there, and find your ways on authentic archaeological plans.
And much more unexpected stuff!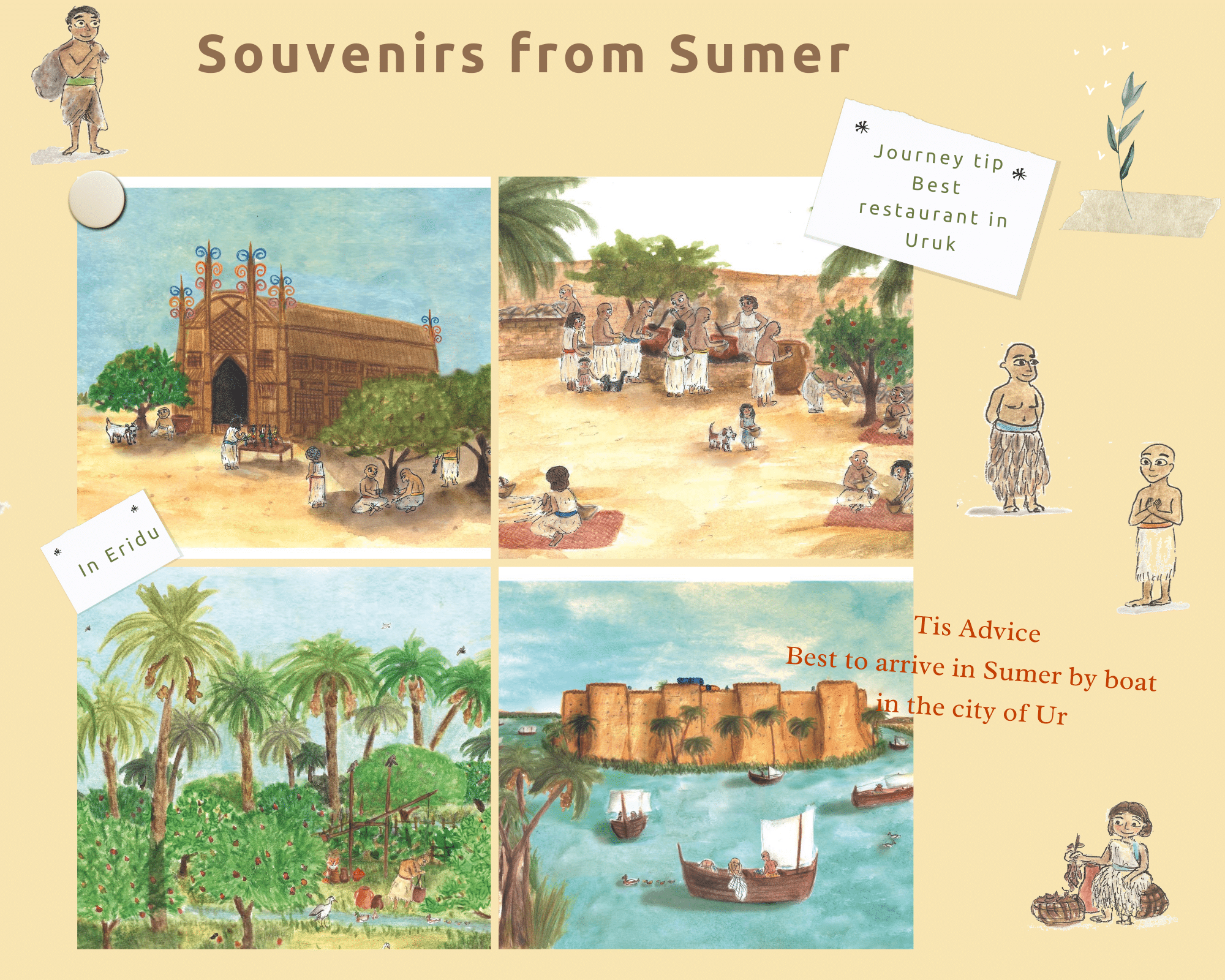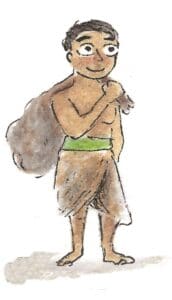 When children "come back" from Sumer, they can leave comments about their trip or the places they visited, on the forum, and share their opinions with other "visitors"!
We also welcome postcards to share with other readers on our website: just send them to [email protected].
"Travel in Sumer, the book" is an ideal complement to a class about Sumer as a reading comprehension activity: teachers can select short passages to read in class according to their interests.
And of course, if you have more questions, leave it here or get in touch with us ([email protected]), and we will reply within a week.
Already available: Ur and Eridu; coming this September "the essential guide to Sumer (practicalities to live in Sumer)".
Esagil is also a board game!
All started with a board game, "Esagil, Treasure Hunt in Babylon", created by Marie.
All is based upon authentic sources, from the board to the dice; Old Babylonian divination, Marie's field of research, inspired the rules of the game.
All started with a board game, "Esagil, Treasure Hunt in Babylon", created by Marie.
All is based upon authentic sources, from the board to the dice; Old Babylonian divination, Marie's field of research, inspired the rules of the game.
It is set in Babylon, during the Seleucid period around 300 BC (just after Alexander the Great). The aim is to bring an offering to the great god Marduk, in his temple Esagil… but bad omens may thwart your plans! Who knows what could happen in the streets of Babylon…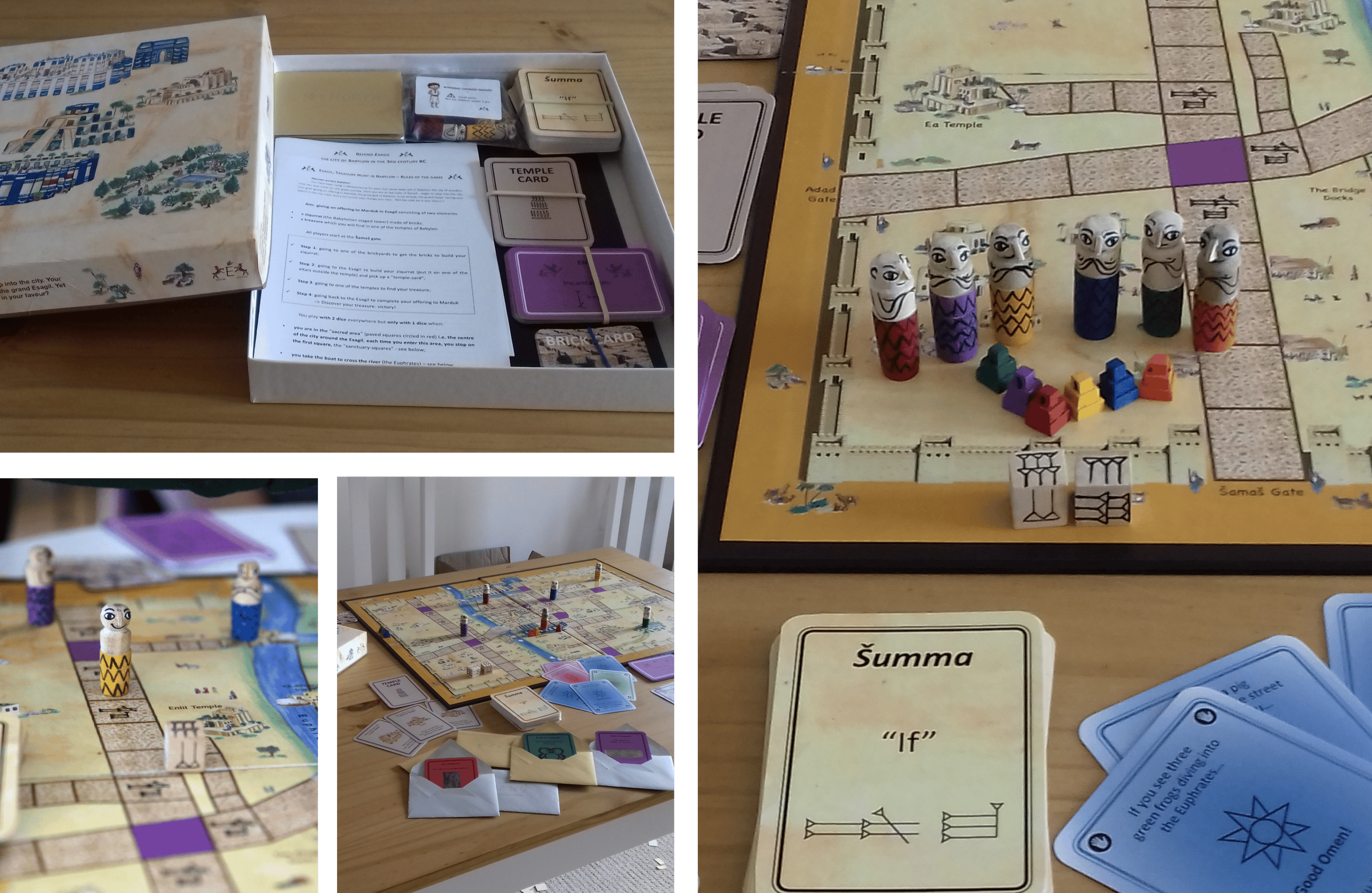 The game was funded and rewarded by the University of Cambridge Public Engagement Seed Fund.
It was presented at the Festival of Ideas 2016 and 2017, and the Science Festival 2017 in Cambridge.
The game is for children but also most appreciated by (young or less young) adults!
On sale in our shop for £45 – 7 copies left!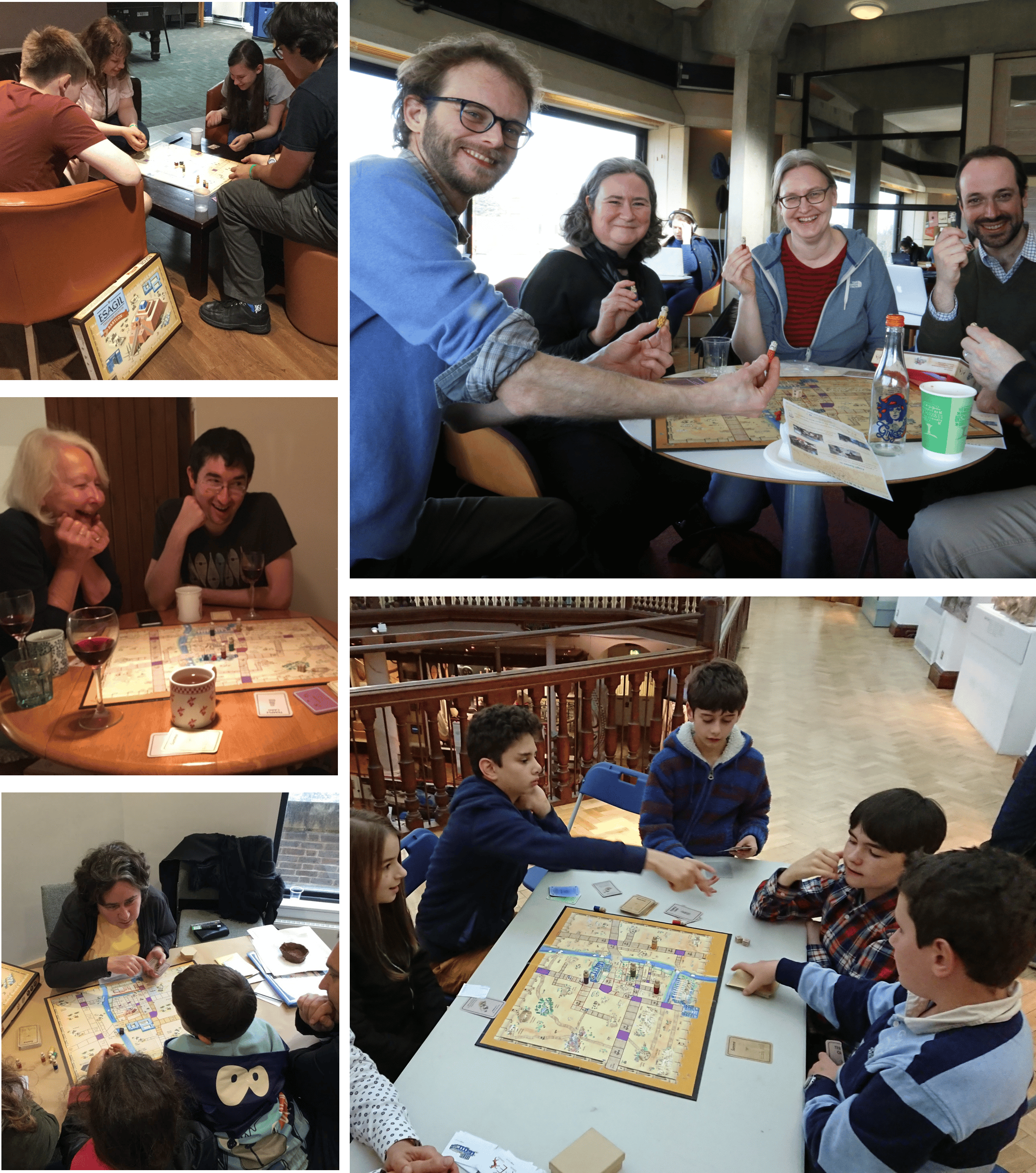 What happened in the spring at Esagil Games?
The irrigation network at the Cambridge Festival!
Pupils from Classe Pomme - Year 4 (Les Petits Caméléons) presented the model of the irrigation network they have created in class. They labelled the components of the network, open and shut weirs and dams to explain how it works to the audience!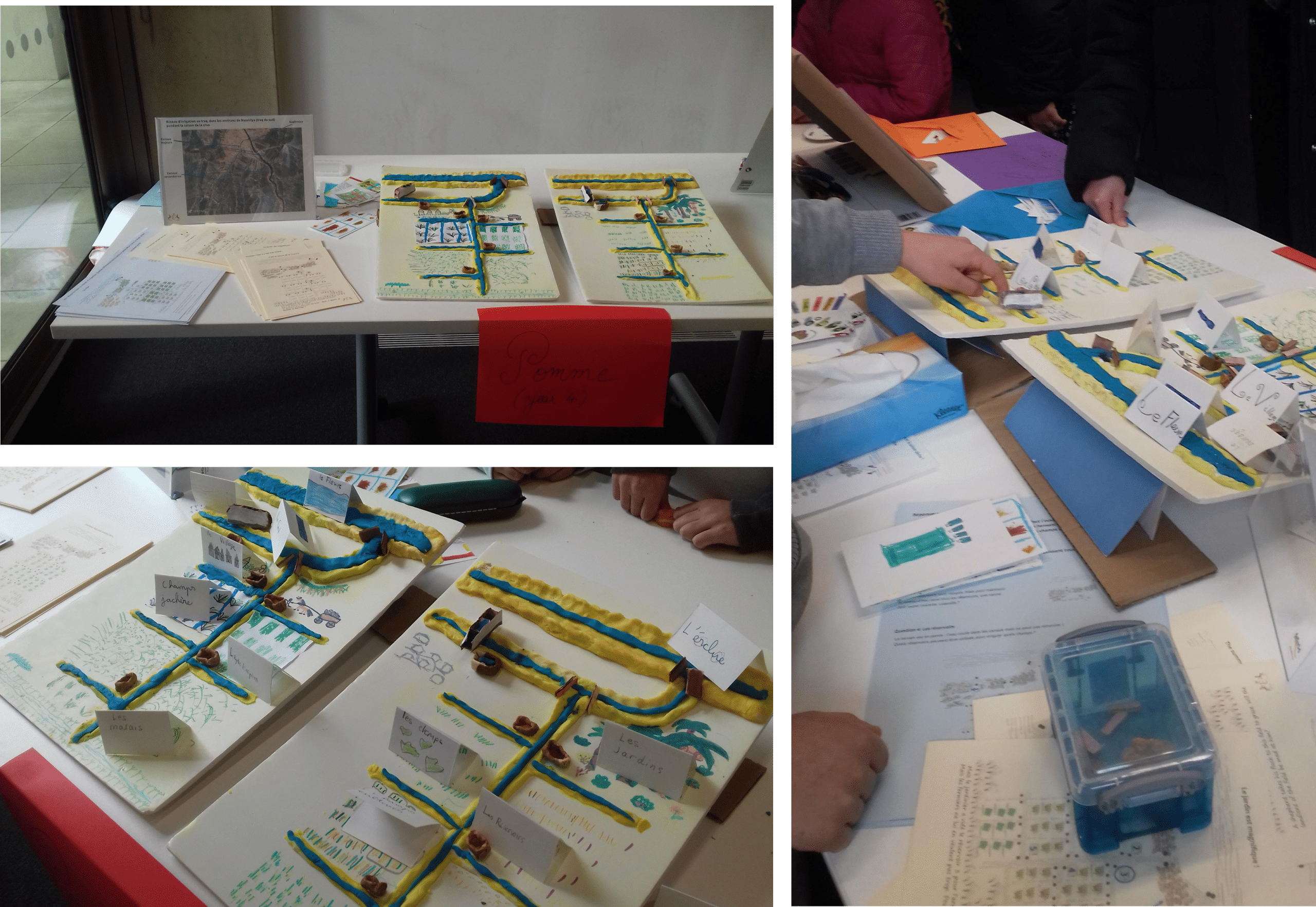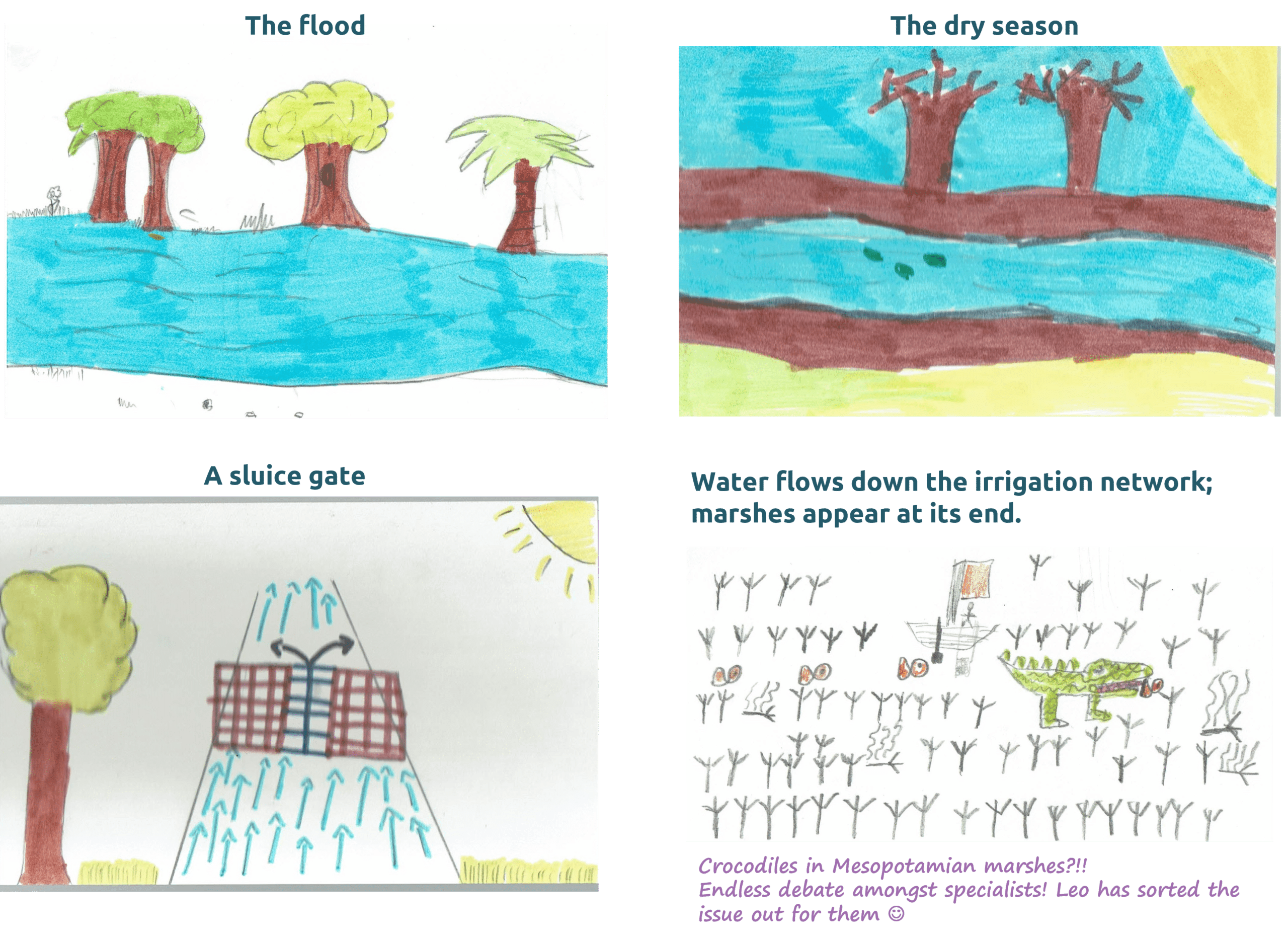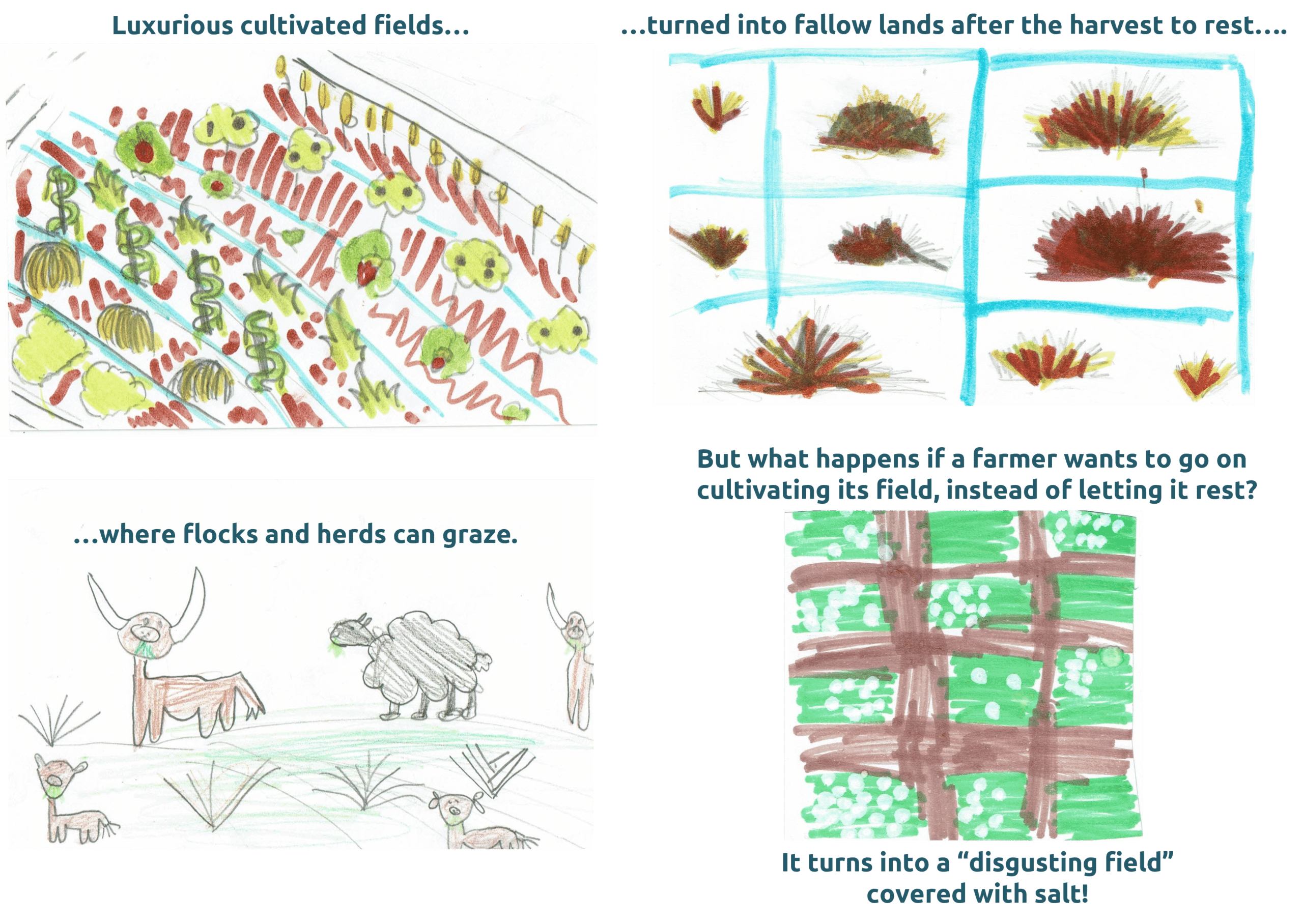 Hello! I'm Iqisha. I live in the city of Uruk, in the south of Mesopotamia.

Welcome to my world!


Want to learn more and keep in touch?

Sign up to receive our monthly tuppum!